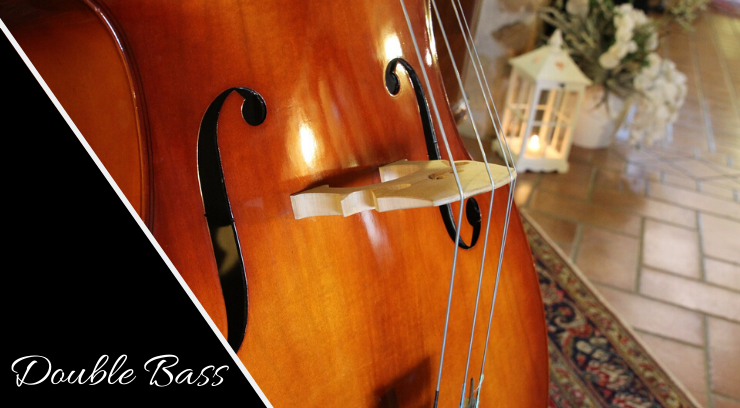 Thank you for your interest in double bass lessons at the Kansas City School of Music. The double bass is the lowest-pitched instrument in the string family and has a rich, fascinating history. Its predecessor is the violone, was first used to "double" the cello line, hence the name. Today, you can see and hear the double bass in a variety of settings, including classical, rock, jazz, bluegrass, and contemporary music ensembles.
We want to make sure the student feels successful and has learned from and grown in the process of his or her bass lessons. Music is a way for someone to express the feelings that he or she cannot quite convey in words, and taking double bass lessons can lead to encouraging new experiences, self growth, and acceptance. At Kansas City School of Music, our students don't just play the bass; they excel.
Every great music school starts with experienced music instructors who are looking to make a difference in the lives of their students. Our master double bass teacher will custom design a lesson plan based on each student's needs. As a music educator, she will not only provide the tools to enable that expression, but will also provide a safe, welcoming place to be vulnerable and explore the depths of one's self. View her biography below for more information on her expertise.
Performing is a key part of learning an instrument. At Kansas City School of Music, we offer ample opportunities for our students to perform. In addition to activities within the Kansas City School of Music, students are encouraged to pursue other opportunities to perform, such as District and State Band/Orchestra, District and State Solo & Ensemble Festival, and the Youth Symphony of Kansas City.
The quality of facility won't make or break a student's ability to learn an instrument per se, but it can certainly make it more enjoyable. At Kansas City School of Music, we have two locations for your convenience: our Lenexa campus and our Overland Park campus. Each facility has soundproof walls and temperature control, as well as pianos for accompaniment purposes. Our state-of-the-art facilities are just a small part of our standards of excellence.
As a parent, you're probably looking for any way you can to get involved. Our instructors here at Kansas City School of Music are happy to offer you advice and guidance for getting involved with your child's music education. We require parents to sit in on lessons if their student is in preschool or elementary school because we believe parental involvement is crucial during this stage of musicianship. Visit our parental involvement page to learn more about these expectations.
If you have any questions about our double bass instructors or double bass lessons, please contact Kansas City School of Music today.