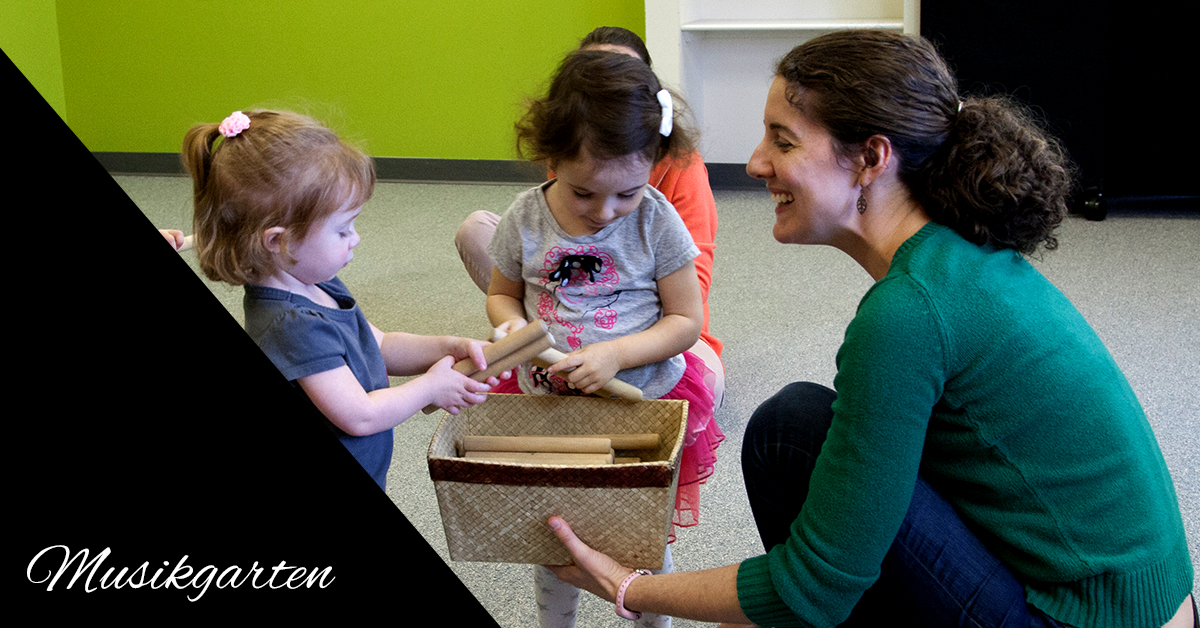 Kansas City School of Music offers Musikgarten as a central component of our music classes for infants, toddlers, and preschoolers. Our certified Musikgarten teachers are experts in early childhood music education.  Classes for children range from birth through 5 years old. After examining Kindermusik, Music Together, and other early childhood music classes, we chose Musikgarten because it is the premier music curriculum for young children. The founder of Kindermusik, Dr. Lorna Heyge, made a name for herself as the assistant director of a music school in Germany.  While there, she was commissioned by the authors of the preschool curriculum she taught and eventually this program was adapted and brought to North America in 1974 as Kindermusik.  She educated hundreds of teachers about this curriculum before selling the business in 1993.  When she left Kindermusik, she started Musikgarten, taking all that she learned and then enhancing the curriculum and making it even better.  Every class includes singing, movement, listening, and instruments providing an appropriate musical experience following a carefully sequenced approach to music development.  Children love the progression from semester to semester, as patterns and songs are repeated and built upon, addressing students' needs at each level.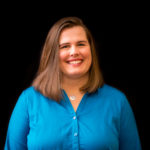 Rebekah Thompson is a piano and voice teacher at the Kansas City School of Music. She holds a Master of Music Education from Pennsylvania State University and a bachelor's degree in K-12 Choral Music Education from Brigham Young University. S...
Now Enrolling
Winter Session 2024
All class materials are included in the price and siblings receive a $15 discount.
Pro-rated continual enrollment is available for all classes.
Fee for class is waived for babies from 0 – 5 months old based on the first day of session – Only requirement is $45 payment for baby class materials.
We ask if you are feeling unwell or are running a temperature over 100 degrees that you remain home.
Family Music for Babies (0-18 months)
Winter Session – 9 weeks (January 8 through March 9)
Mondays 9:15am – 9:45am – $189.00 – Overland Park Location
Saturdays 10:50am – 11:20am – $189.00 – Overland Park Location
Family Music for Toddlers (15 months – 3 years)
Winter Session – 9 weeks (January 8 through March 9)
Mondays 10:00am – 10:40am – $191.25 – Overland Park Location
Fridays 9:30am – 10:10am – $191.25 – Overland Park Location
Saturdays 9:10am – 9:50am – $191.25 – Overland Park Location
Saturdays 10:00am – 10:40am – $191.25 – Overland Park Location
Music Makers (3.5 – 5 years)
Winter Session – 9 weeks (January 8 through March 9)
Saturdays 11:30am – 12:15pm – $198.00 – Overland Park Location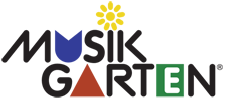 ---
What Is Musikgarten?
Musikgarten is a renowned music program used by hundreds of early childhood education institutions across the nation — and around the globe. The program started in 1994 by Dr. Lorna Lutz Heyge and Audrey Sillick, two of the most influential female leaders in music education for children. Musikgarten brings together the values of music, nature, and early childhood education.
The philosophy behind Musikgarten is to provide babies and children with some of the most enjoyable parts of childhood: music and movement. Early music education is a powerful tool that can help your young one exercise their speech, social skills, self-esteem, focus, motor skills, teamwork, creativity, passion, and many other important stages of early childhood development. The best part of Musikgarten is that it makes all of these things fun! With Musikgarten, your child will develop a passionate approach to learning that will stick with them for years to come.
Our Musikgarten Program
At Kansas City Music School, our Musikgarten program consists of engaging music classes that get kids excited about music and fuel their desire to learn. These music classes are tailored to the developmental level of each age group we serve. They integrate a child's physical and cognitive milestones into daily learning activities. That's why we offer three different levels of Musikgarten for infants, toddlers, and preschoolers:
For newborns and babies up to 18 months, we offer music classes that help develop senses and motor skills. Hearing, vision, and touch are still very new to infants. Therefore, our Musikgarten program provides a fun way for them to explore their surroundings. Introducing infants to music during this stage of their lives can set them up for happiness and success later in life, as it provides them with healthy mental and physical stimulation early on.
We also offer classes for toddlers 15 months to 3 years of age. These focus on developing both gross and fine motor skills while also instilling in them a passion for music. Kids this age are eager to push the boundaries of what they can do, create, and learn. Our classes for toddlers allow them to do just that by integrating music with outdoor exploration.
Our Musikgarten classes for preschoolers take early childhood music education to a whole new level, focusing on developmental milestones associated with speech, colors, and physical activity. These courses will expand your child's knowledge of different kinds of music and instruments while developing their appreciation for others and nature.
No matter what age your child is, Musikgarten programs can greatly benefit them in terms of healthy development, overall happiness, and greater success in life. Music truly does wonders for the soul, the brain, and the body — especially when it is introduced to children during the most important developmental stages of their lives. With Musikgarten to instill in them a passion for music and an eagerness to learn, other aspects of life like continued education and work will come easily.
You may have heard of a similar program to Musikgarten called Kindermusik. Both of these programs offer a similar outlook when it comes to the role that music plays in early childhood development. Founded in the late 1970s by Dan Pratt, Kindermusik is based off a curriculum used in Cologne, Germany in order to empower children through the process of learning music. Throughout the 1980s, Kindermusik gained international recognition and inspired the creation of Musikgarten.
Since its creation in 1994, Musikgarten has not only expanded this curriculum to children across the world, but to teachers as well. We believe that having the right teachers in place to carry on this message to a new generation is fundamental to its success. All of our instructors here at Kansas City Music are put through an extensive Musikgarten training program and have received their Musikgarten teaching license.
In addition to Musikgarten, Kansas City Music School offers Suzuki Method Piano and Violin classes for children ages three and up. This program allows children to learn instruments aurally and gradually work towards reading musical notation. This requires more parental involvement than the Musikgarten program but may be the best option for your child. Contact Kansas City School of Music to learn more about each of these programs.
Sign up today!
There is no better way to aid in your child's development than to introduce them to music while exercising other important milestones. Our program has provided hundreds of young children with a fun, engaging music curriculum that has stuck with them throughout the rest of their upbringing and beyond. Sign your child up for Kansas City Music School's spring, summer, or fall classes online today!
For more information about the classes, contact Rebekah Thompson at rthompson@kansascityschoolofmusic.com
Musikgarten Philosophy
"When music and movement are a natural, joyous part of childhood, children benefit greatly in many areas of life. Language development, self-expression, memory skills, concentration, social interaction, fine motor skills, listening, problem-solving, teamwork, goal setting, and coordination are all impacted by early music and movement education. What's more, as a child learns to play music, other areas of development — creativity, family bonding, self-esteem, confidence, emotional development — are also positively impacted.
Movement and music activities are perfect for child development. Music immerses the child in language, evokes movement, stimulates the brain, and fosters physical coordination — all in a group setting that builds community — a truly holistic experience." – Musikgarten