Thank you for your interest in clarinet lessons at the Kansas City School of Music! The clarinet has a long history and a diverse selection of music. Our clarinet teachers will ensure you have a chance to develop your skills across a variety of musical styles, while guiding you to use your creativity to develop your own personal musicality. 
Clarinet is one of three woodwind instruments we offer lessons in here at Kansas City School of Music. The instrument is found in orchestra, band, jazz band, chamber and solo settings. Our aim is to not only develop your skills as a clarinetist, but to build a solid foundation of musicianship that will serve you for years to come. Whether you've never held a clarinet before or you've been playing for several years, we're happy to offer comprehensive clarinet lessons to any age and skill level. Our students don't just play the clarinet; they excel at it.
Our clarinet teachers combine extensive experience with a passion for their instrument. Each of them is committed to developing their students' technique and instilling a deep understanding and love of music. Our master instructors provide lessons for students of all ages and musical backgrounds. See their bios below for more information on their expertise.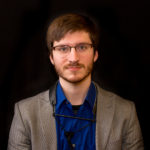 Will Peak is a saxophone and clarinet teacher at the Kansas City School of Music. He holds a degree in music performance from the UMKC Conservatory of Music, where he studied saxophone with Zach Shemon and clarinet with Jane Carl. In addition...
Regular performances are key to developing your skills as a clarinetist. We offer ensembles and other opportunities to work with other students. These groups are open to all of our students. Give us a call if you would like more information about this. In addition to activities within the Kansas City School of Music, students are encouraged to pursue other opportunities to perform, such as District and State Band/Orchestra, District and State Solo & Ensemble Festival, and the Youth Symphony of Kansas City.
The quality of facility won't make or break a student's ability to learn an instrument, but it can certainly make it more enjoyable. At Kansas City School of Music, we have two locations for your convenience: our Lenexa campus and our Overland Park campus. Each facility has soundproof walls and temperature control, as well as pianos for accompaniment purposes. Our state-of-the-art facilities are just a small part of our standards of excellence.
Parental involvement is crucial for the musical development of young children. That's why if your child is in preschool or elementary school, we require parents to sit in on music lessons. However, if they are older than that, we still strongly recommend getting involved in their education. If you have any questions about this, give us a call, and we can help you figure out what level of parental involvement would be most beneficial to your child.
If you have any questions about our clarinet instructors or clarinet lessons, please contact Kansas City School of Music today.